The partnership between AgroCola and the Kaduna state government is driven by young agripreneurs seeking to make efficient agricultural impacts. The goal is to support them in the areas of dairy farming, maize, soy beans and rice production. The support will ensure they are provided access to credit, land, agronomy, and extension support.
Additionally, trainings in farming best practices and agribusiness will be designed and provided with a focus on the innovative ways to boost dairy farming in the region. The scheme is set to onboard thousands of young persons to participate actively in all value chain areas of agriculture around dairy, maize, rice, and soy beans farming.
AgroCola's Projects in Kaduna State
Rice Project
With the aid of digital technology employed across all agricultural value chain and stages of rice production, AgroCola will guarantee thousands of interested farmers being supported with credit, land, inputs, agronomy and extension support to boost the production of high yielding rice hectares.
While being engaged in rice production, onboard young farmers will be periodically trained on best rice production practices from seed selection, water management to post-harvest. By deploying digital technology and skill acquisition in rice farming, we are ensuring that the project has a high impact both in Kaduna and the country's rice farming yield.
Maize Project
The goal of the AgroCola maize project in Kaduna state is to champion an exponential boost in maize production in the state by providing productive and tech-savvy young persons with the right tools to actively participate in the process. The project covers test value, real disease and pest occurrence studies to ensure high and quality output. Agrocola's maize project in Ekiti state targets achieving the above though a multi-hectare youth-driven massive maize production. With digitized agronomy and extension support, the project will also include soil test value, real disease and pest occurrence studies.
Diary Project
With significant population growth especially among children and young people, alongside increase in modern retail across Africa, the need for a boost in dairy farming becomes all the more exigent. AgroCola, will be supporting the production of several dairy products in Kaduna state ranging from cheese, milk, butter, cream, meat to yoghurt.
This project will include world class trainings in production best practices, youth engagement activities, agronomy and extension support geared towards achieving high yield quantity and quality to meet world standards for dairy products.
To support the hands-on trainings, we will also design intensive guide materials to cover such areas as animal and milking hygiene, nutrition, environment, animal welfare, and socioeconomic management as regards dairy farming and businesses.
While being engaged in rice production, onboard young farmers will be periodically trained on best rice production practices from seed selection, water management to post-harvest. By deploying digital technology and skill acquisition in rice farming, we are ensuring that the project has a high impact both in Kaduna and the country's rice farming yield.
Soy bean Project
With our digital capabilities, the soybean production metric ton per hectare in Kaduna state will be boosted significantly through the AgroCola initiative. We are supporting the cultivation of thousands of soybean hectares in the state. Onboarded farmers will be able to conduct effective agronomy and extension routines with the help of our well-trained Extension Agents.
The project will deploy our digital solutions to combat the challenges trailing soybean production in Kaduna – from such diseases as bacterial blight and red leaf blotch to pod shattering which reduces seed longevity and consequently crop yield per hectare.
Project Deliverables
AgroCola
AgroCola has integrated all the agricultural value chains seamlessly in one platform to allow for efficient interaction among them, significant youth participation, and increased food production potential. Our partnership with the Kaduna state government will consequently guarantee the wielding of efficient digital solutions by enthusiastic and productive Kaduna youth. To achieve the goals of this partnership, AgroCola will be delivering on:
Youth Farmer Onboarding
We will carry out remote farmer and farm registration. Also, interested young farmers will be fully brought onboard the platform to participate. Our digital software, ADAP, will be used to undertake both in order to provide a reliable management system. This will ensure that the process is fast, efficient, and make onboarding of a large number of youths easier.
Finance
The ADAP software is designed to meet all financial needs of participants. This means that every payment within the platform will be made using the digitized and tokenized payment system. The system will ensure prompt interactions among the value chains and, consequently, guarantee higher impact of all the AgroCola projects in Kaduna state.
Extension and Agronomy
Agronomy and extension support is at the heart of the value propositions of AgroCola. We believe that if Kaduna youths, and by extension – Nigerian youths, are exposed to best agricultural practices and expertise, they will make the best of it by translating such support to significantly higher crop production and yield.
Therefore, we will design and make available a digitized and calendarized extension and agronomy body of knowledge. It will be tailored to individual farmlands and each crop type. It will also help in data generation and analyses of farming practices under the scheme.
Consequently, it will ensure that it is easier to make yield predictions and determine required inputs for Ekiti youths who are passionate about agriculture. This support will apply to all the different projects to be carried out in Ekiti state and to all participants.
Kaduna State
Kaduna state government is popular for its youth empowerment policies and initiatives. With this level of commitment and profile, the state government holds several keys to the success of a scheme such as this. Therefore, the partnership is imperative and will allow the government to step in the areas of:
Facilitation of Youth Engagement
Effective and consistent youth engagement activities is at the heart of an initiative like AgroCola which has a high impact potential. Especially as it is designed to accommodate even young persons with no prior experience in commercial agriculture or those who haven't engaged in agribusiness at a large scale.
Therefore, the state government, with the help of its relevant agencies, will be needed to facilitate the multiple stakeholder engagement activities planned around various agricultural production calendars.
Land Allotment
The AgroCola scheme counts on the Kaduna state government to provide contiguous arable land to ensure interested young persons are able to participate productively. The target is to have each participant in the farming category cultivate, at least, one hectare of farmland within the first cycle.
We also intend to encourage participants to increase their production as they get better and this will require allotting more lands to them to scale their farming businesses. This is an important component of the scheme that the Kaduna state government can best assist in.
Research and Innovation
AgroCola has numerous available opportunities that participants can take advantage of. One of these is birthed by the platform's drive towards innovation in agricultural production. But more than the quest for innovation in food production is also that which seeks to consistently improve on the social impact engaging in all the value chains has on the quality of lives of participating young persons in Kaduna state.
A partnership with the Kaduna state government will birth the establishment of a world class research lab in selected higher institution in Kaduna state dedicated to achieving more than engaging the youth to significantly improving agricultural production to a scale where Kaduna can feed the world.
The lab would be dedicated to power a data-based research in such a way that data mined from AgroCola's field operations will be used to improve youth participation and other areas like agronomy, extension, animal husbandry, storage/post-harvest management, logistics, and micro finance in agricultural value chains.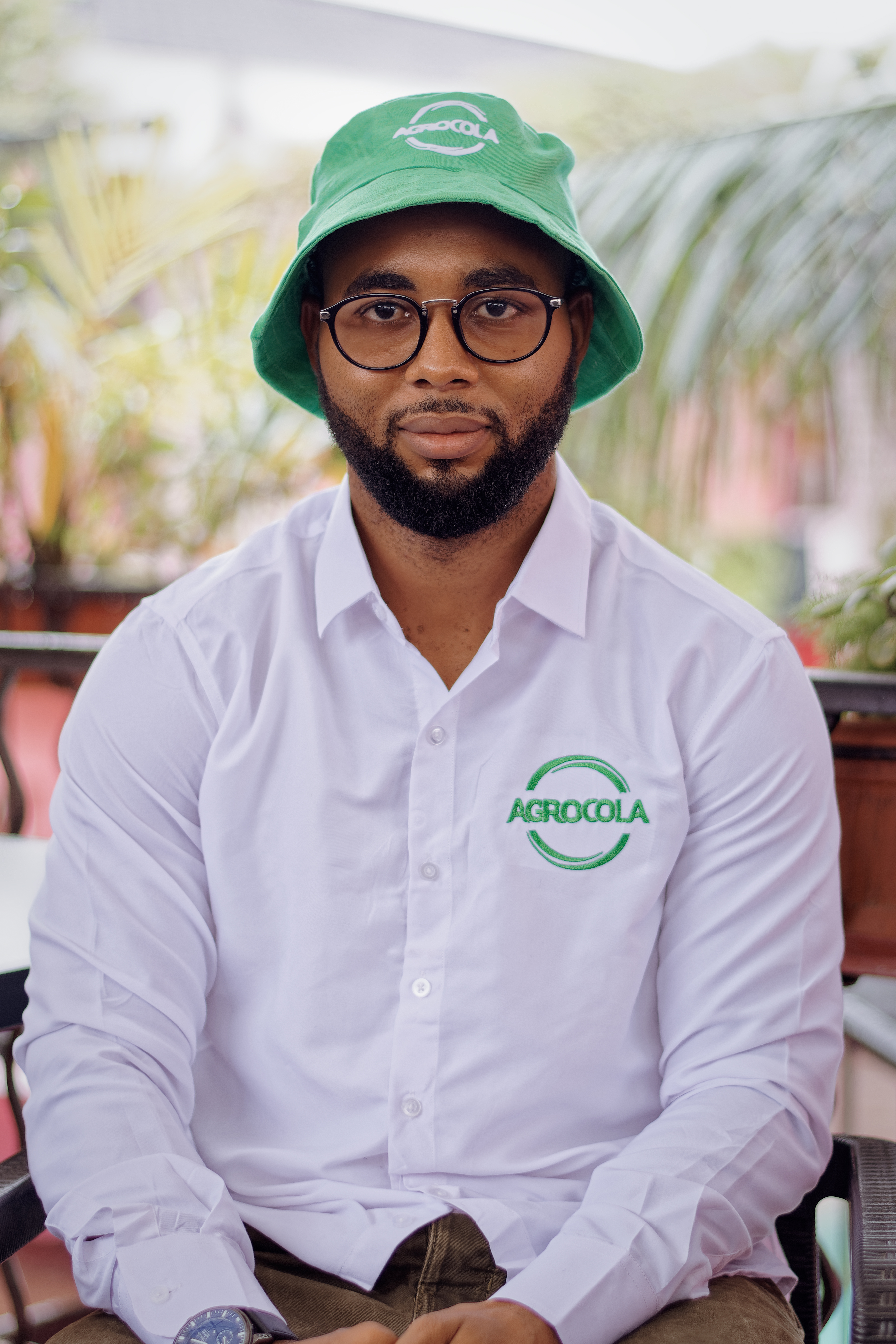 Abubakar Abdulkadir Mutubi
Cola Chief (Kaduna)