The scheme's partnership with Kebbi state is poised to support the youth in the production of rice, maize, and soy beans by providing them access to credit, input, arable land, agronomy and extension expertise. The objective is to get 10,000 young farmers and agripreneurs onboard the platform and actively engaged between now and 2022.
AgroCola's Projects in Kebbi State
Rice Project
AgroCola will pilot the cultivation of rice hectares in Kebbi state by deploying its digital technology solutions across all stages of production from seed selection through water management to post-harvest. These will be carried out simultaneously by taking onboard participants through intensive training to enable them to make the best of agronomy and extension support provided.
Maize Project
AgroCola will complete a multi-hectare maize project in Kebbi by supporting the onboard young farmers during every stage to achieve this. Our experts will determine soil test value, real disease and pest occurrence to help compute each individual farm's Economics of Production.
The broader aim will be to ensure the young farmers have easier and more efficient farming experience. Employing a digitized maize production process, alongside agronomy and extension support from seed certification to post-harvest, is a good way to breach the advocacy gap that exists in the youth when it comes to agriculture as a whole.
Soy bean Project
AgroCola has several digitized agricultural capabilities designed to address particular challenges in the agricultural sector and transform food production practices to be more efficient. We will launch these on the cultivation of thousands of soybean hectares across every stage of production in Kebbi State. We are set to champion world-class training in soybean farming and in harnessing its agribusiness potentials. These will run concurrently with agronomy and extension support to ensure high yield quality and quantity.
Project Deliverables
AgroCola
AgroCola seeks to harness the productive potential and digital savviness of young Nigerians to revolutionize Agriculture and agribusiness in the world. This is the thrust of our partnership with the Kebbi state government. To bring this to fruition, the platform has committed itself towards delivering the following essential components
Youth Farmer Onboarding
The AgroCola Digital Agricultural Platform (ADAP) has several capabilities to achieve seamless interactions among all agricultural value chains. One of these capabilities includes the technology to conduct quick self and remote farm registration alongside the onboarding of interested Kebbi young farmers and agripreneurs. With this, we will be onboarding a limitless number of interested persons in a limited time.
Finance
The ADAP software is able to deliver a digitized and tokenized financial service system that will handle all payments across all value chain activities in all the projects to be undertaken in Kebbi state including providing needed credit and farming inputs.
Extension and Agronomy
With the aid of our digital technology designed to assist farmers in crop production, we will provide detailed agronomy and extension support to all onboard farmers. We will design and calendarize a body of agronomy and extension knowledge in a way that focuses and prioritizes each individual farm, crop, and their needs.
Apart from ensuring high yield and easier farming experience, this will allow for data generation and analyses of farming practices. Additionally, it will be easier to make yield prediction and determine required inputs for Kebbi youths who are passionate about achieving food security in Nigeria.
Kebbi State
To guarantee the success of the AgroCola scheme in Kebbi, the state government has a few crucial roles to play. This is also an opportunity that allows the state government realize its youth empowerment initiatives by stepping in in areas like
Facilitation of Youth Engagement
Intensive and consistent youth engagement is crucial to making a scheme like this one impactful. It is important that not only are they engaged consistently, but that the right strategies are promoted to achieve effective participation from information sharing to decision making. The Kebbi state government, with the help of its relevant agencies, will assist in facilitating the multiple stakeholder engagement activities planned around various agricultural production calendars.
Land Allotment
Over 53% of young Nigerians say they will actively participate in Agriculture if provided with the right tools to engage productively in it. This applies to Kebbi state youth and land is one of those tools. To ensure the massive participation of Kebbi youths in the scheme, AgroCola counts on the state government in providing contiguous land to allow young interested persons to participate even without owning land.
Research and Innovation
We are committed to developing and improving agricultural processes to ensure efficiency and high productivity. This goes along with our focus on youth-driven agriculture. Our partnership with the Kebbi state government will birth the establishment of a world-class agricultural research lab in a higher institution in the state.
Our goal for establishing the lab is to better focus on powering data-based research. This entails transforming data collected from Agrocola's field operations into data-driven methods of improving youth participation and better outcomes using digital technology in agronomy, extension, animal husbandry, storage/post-harvest management, logistics, and micro finance in agricultural value chains.
This is projected to result in sustainable solutions for such challenges as sub-optimal yield, post-harvest loss, logistics and financial exclusion in agriculture and, by extension, the Kebbi state economy.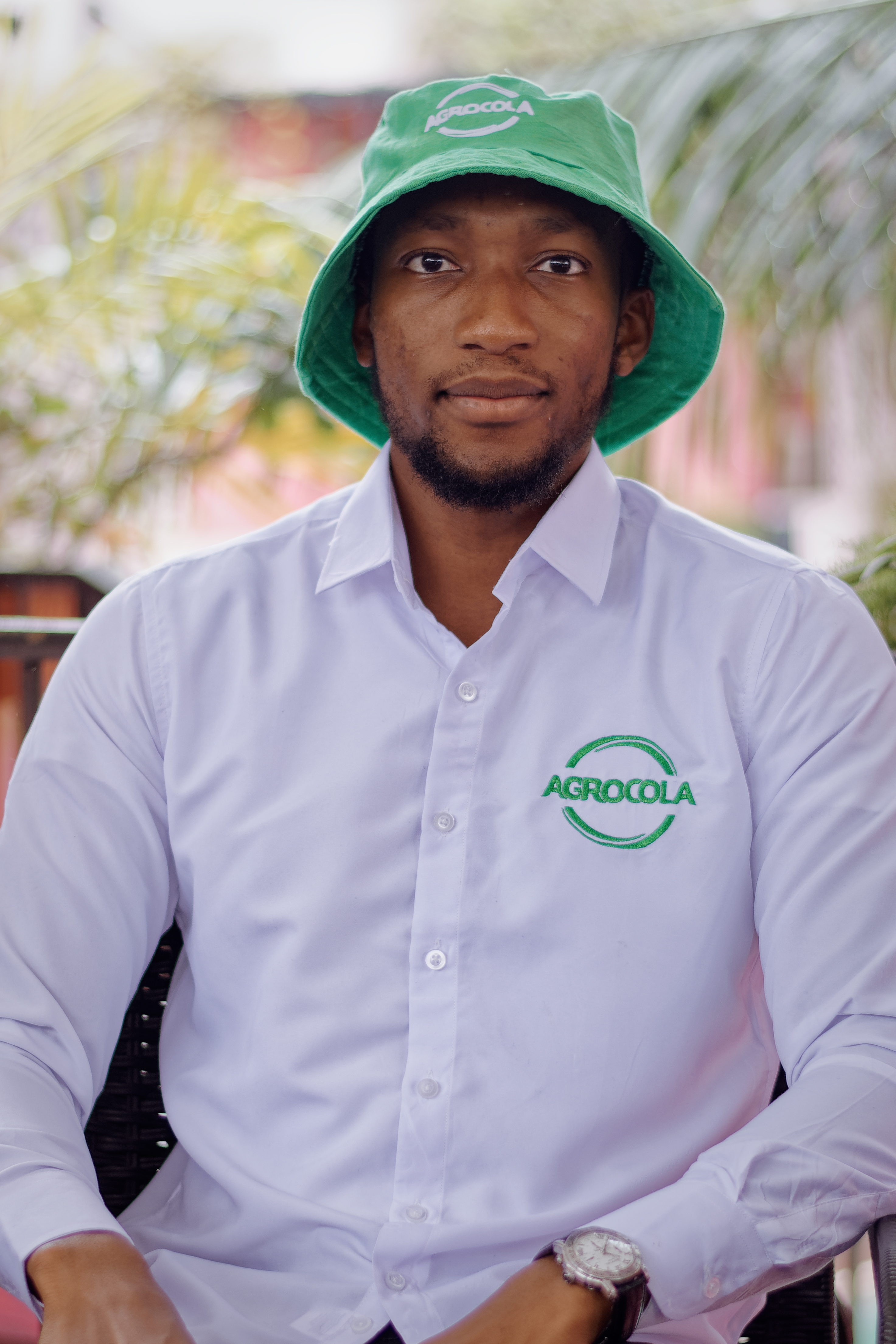 Haruna Hassan Tukur
Cola Chief (Kebbi)