The partnership with the Oyo state government is poised to support over 10,000 young farmers and agripreneurs in 4 years to 2022. The support will take the forms of access to arable land and credit, agronomy and extension support. It will also cover several crop types such as soy beans, maize and rice.
AgroCola's Projects in Oyo State
Rice Project
With technologically aided tools and solutions deployed across all agricultural value chains and stages of food production, AgroCola is poised to provide all needed support for the cultivation of thousands of rice hectares in Oyo state. Through calendared and consistent training, interested Oyo state young persons will be knowledgeable in making the best of agronomy and extension best practices for better rice yield quality and quantity
Maize Project
The thrust of the AgroCola maize project in Oyo state is to lead a boost in maize production in the state by providing productive young persons with the right tools to actively participate in the process. The project covers soil test value, real disease and pest occurrence tests to ensure easier and more efficient farming experience for the farmers and optimal maize yield quality and quantity The broader aim will be to ensure the young farmers have easier and more efficient farming experience. Employing a digitized maize production process, alongside agronomy and extension support from seed certification to post-harvest, is a good way to breach the advocacy gap that exists in the youth when it comes to agriculture as a whole.
Soy bean Project
Using its digitized agricultural capabilities, we are supporting the cultivation of thousands of soy bean hectares in the state. This runs simultaneously with periodic world class training on soy bean farming, best practices and the agribusiness potentials of the crop. On-boarded farmers will be able to conduct effective agronomy and extension activities with the help of our well-trained Extension Agents.
Project Deliverables
AgroCola
The significance of AgroCola's partnership with Oyo state is in the efficient application of digital technology at the hands of tech savvy young persons in the state meet the nation's food needs. This way, their productive instincts will be harnessed to boost agriculture and agribusiness in the state also. To drive the goals of this partnership, the scheme has committed itself in delivering the following components:
Youth Farmer Onboarding
We will carry out remote farmer and farm registration alongside on-boarding of interested Oyo young farmers, digitally, using the AgroCola Digital Agricultural Platform. This means the process will be fast, efficient, and make on-boarding of a large number of farmers especially through ADAP's identity management feature easier.
Finance
The ADAP software has the capability to handle all payments on the platform. With it, AgroCola will deliver digitized and tokenized financial system which will be used in providing credit and processing farming inputs.
Extension and Agronomy
AgroCola will design and make available a digitized and calendared extension and agronomy body of knowledge. It will be tailored to individual farmlands and each crop type and help in data generation and analyses of farming practices under the scheme.
Oyo State
With its efforts towards improving food production and including the youth in state building, the Oyo state government holds several keys to the success of all AgroCola campaigns in the state. Therefore, the partnership is imperative and will allow the government come step in in the areas of:
Facilitation of Youth Engagement
AgroCola is designed to accommodate even young persons with no prior farming or agripreneurial experience. Therefore, for it to be as impactful as intended in Oyo state, as in other states, intensive and consistent youth engagement activities is pivotal to the entire platform. The state government, with the help of its relevant agencies, facilitate the multiple stakeholder engagement activities planned around various agricultural production calendars.
Land Allotment
The AgroCola scheme counts on the Oyo state government in providing contiguous land to ensure young persons interested in participating are able to do so even without initial access to arable land. The goal is to have each young farmer cultivating at least one hectare of land and also be able to scale up with time.
Research and Innovation
At the heart of the AgroCola platform is the drive towards innovation in agricultural production especially as it has a social impact on the quality of life of young persons. A partnership with the Oyo state government will birth the establishment of a world class research lab dedicated to achieving more than engaging the youth to significantly improving agricultural production.
The focus of this lab would be to power a data-based research in such a way that data mined from AgroCola's field operations will be used to improve youth participation and other areas like agronomy, extension, animal husbandry, storage/post-harvest management, logistics, and micro finance in agricultural value chains.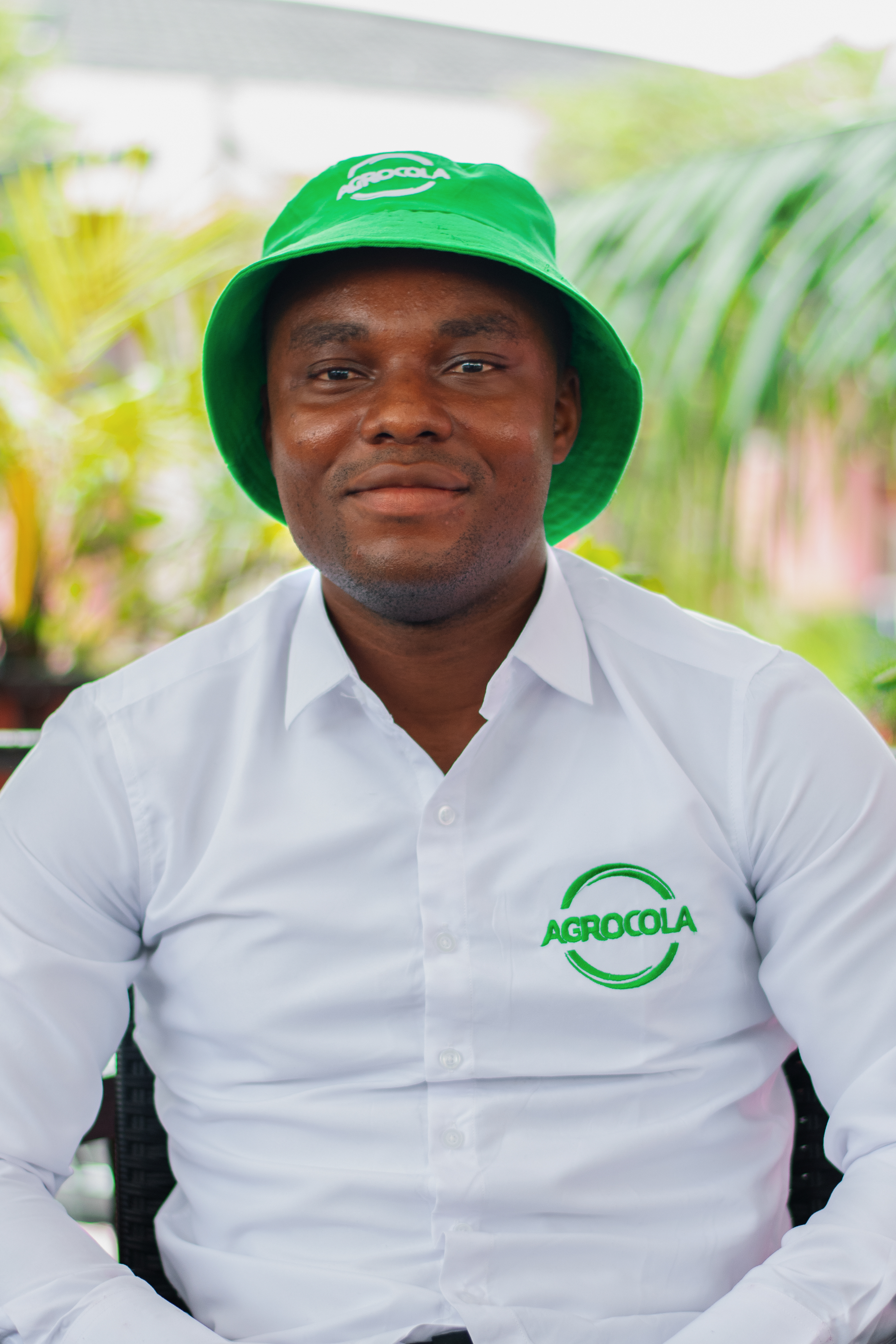 Ademola Adeyemo
Cola Chief (Chief)